HAPPY BIRTHDAY, CHINA-BEAR!

In more pet news this week, China-Bear, my cat and long-time companion, turns 16 today! She was all in a flutter yesterday picking out her birthday outfit, birthday meal(s), gifts, and other such festive fancies. Here she is thinking about it: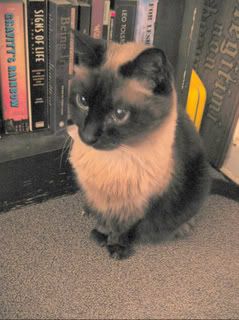 Also, I'm not exactly sure what happened after I went to bed last night, but all I'm sayin' is that the China-Bear woke up feeling mighty darn frisky this morning, and the Meerkat seems to have become a man. Coincidence?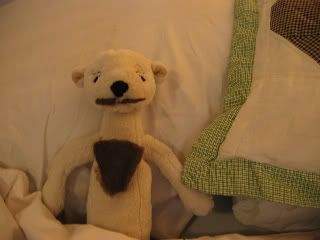 and, now...

A DOZEN DELIGHTS!

You may have already surmised that I'm a big fan of Dozen Cupcakes, Dozen Bake Shop, and the owner of both, the King of Cupcake Manor himself, James. Well, now there's even more to love! Dozen Bake Shop just started doing a vegetarian/vegan dinner on Friday and Saturday nights (three seatings each night, go here for more info and to RSVP).

Pittsburgh doesn't have a lot in the way of vegetarian dining, which constantly hurts my little heart, so I'm thrilled to have another option! I went on Saturday evening with Barbara, and met up with Mags and the E-dawg. We sat upstairs in the new seating area (with a little outside seating area/balcony, too!). The structure is that you RSVP in advance, then you come in, there's a limited menu on the board while you're waiting, you order at the counter, get your drinks and a table number, and then shortly some fantastically delicious food arrives at your table.

We all ordered the eggplant lasagne, which was a HUGE crock of bubbling goodness--eggplant, sauce, lots of ricotta, breadcrumbs, cheese, with a little lightly dressed (as it should be) side salad. We also ordered the starter/small plate of the 7 Onion Tart with red wine reduction. It was YUMazing! Seriously--so good! We didn't order some other items, but James dropped by with some to share--and I'm SO glad he did--the Seitan Po'Boy (with sweet potato fries) and a slice of some beautiful red velvet cake. By the time we left, I was stuffed beyond all reason, but happy as a (vegetarian) clam!

The Seitan Po'boy and the 7 Onion Tart tied for first place in my affections. The seitan was perfect with a vegan (onion?) gravy, and a spicy sauce, and the bread was also fantastic. The onion tart was simply a taste sensation.

In fact, all of our food was so delicious that I only remembered to start snapping pics after we'd already made a significant dent in the offerings. But, check 'er out.

Eggplant Lasagne: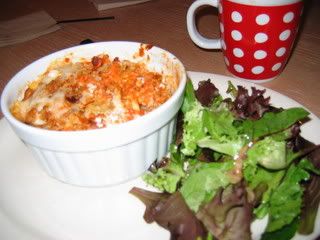 Seitan Po'Boy, and a space where the sweet potato fries once were:



7 Onion Tart, nearly completely decimated:



Red Velvet goodness:



Good food = good times: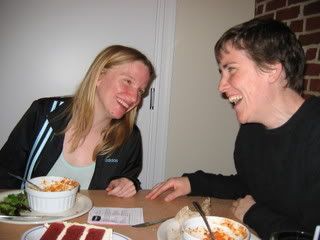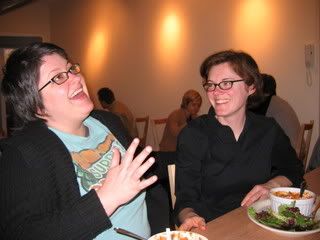 *note--there was also a butternut squash casserole with maple infused creme fraiche on the menu, but we didn't taste it. sounds good, though, huh?

Check it out! Support LGBT-owned businesses and good vegetarian food options! Where it's at, yo!

AN UPDATE ON THE K-BEAR

Okay, and lastly, I just wanted to say thanks for all the sweet messages, emails and calls about the K-Bear. He's actually doing really well! He seems to have shaken off the soreness, and has started to heal. He now likes to go by the nickname "Face" (he thinks it makes him seem tough. never mind the yellow kerchief...). He's looking pretty good, eh?