I know I'm probably sounding like a broken record, but I have been busy! All good stuff, but still. Blogging has been a diminished priority. And, I'm sorry, dear readers. I do miss you, and going forward I'm going to try to post twice a week. Try, I said. We'll see. At least once. Okay.

There definitely have been some good times and good eatin' going on. Some have been photographed, some not so much. One of my favorites, which was coincidentally photographed, was brunch last Sunday. Barbara and I went over to Maggie and Ellen's. Mags made her famous french toast, I made some fresh frozen yogurt and sliced some strawberries, and we put that on top of the french toast for a beautiful breakfast sundae kinda thing. Isn't it lovely?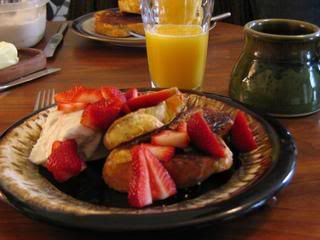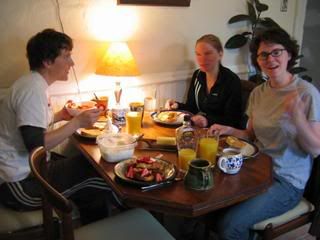 I also got to have lunch on Monday afternoon with the chef from Casbah, Alan Peet. I'm such a nerd when it comes to writers, chefs and artists. It was super fun, and the food was great. We started with some hummus, muhamara (which I learned how to say, and then promptly forgot), and eggplant spread (that was super light and fluffy, and the texture reminded me of pumpkin pie filling). Then I had a tomato and grilled vegetable sandwich and a small salad. Annnd, I wrapped that up with the Strawberry-Rhurbarb Mille Fueille. Wowza.

And, since spring has officially sprung, it's time for ramps! Barbara, Mags, E-dawg and I are hitting the festival in Helvetia this year. Helvetia is a magical place, and I haven't been for many years, so I'm really looking forward to it. Plus, my parents are meeting us there. Which, incidentally, will also be there first time the 'rents meet Barbara. Or, uh, any girlfriend. (gulp!)

Here's a great article that E-dawg found on Helvetia. And, here's a recipe for Ramp Pizza I made last year (and a confession about harassing Alison Bechdel...).

Okay, will report back about the festival and the ramps!