I feel fine in lots of ways today! I'm finally, finally, finally over the plague I had. I went to the doctor on Thursday, and he thought I may have mono, and sent me for blood tests and ordered me to do nothing but "Eat and use the bathroom. Seriously, NOTHING else." So, I took off work on Friday, and laid around for a few days, and then I felt better when I woke up on Sunday, and now feel like a new lady. Phew!

As an aside, Metro Family Practice is pretty awesome. I saw a doctor who's not my regular (who's awesome), and he was really great. Seriously, some of the best doctor's visits I've had in years have been at this place. It's like they actually listen and actually care. If you're in Pittsburgh, and looking for a good PCP, check out this place.

I also feel fine because it is now tomato and corn season!!! There's really nothing better. They're delicious even completely unadorned, and perfect for eating on summer days when it is Hot As Hell and you Do Not Feel Like Being In a Hot Kitchen. Yum.

I had some of the best corn I've ever tasted last night via pal Lisa. She sent an email this morning telling us about this place based in the Strip that is a "virtual farmers market" where you can order local and non-local, and even do a CSA, all through their site, and schedule a pick-up either in the Strip or at another location in the area. They're called Good Apples, and I think I'll swing by there after work and pick up a dozen ears of that corn (on their site they say it's from local farm Yarnick's (in Indiana, PA). A dozen is only $5! Worth its weight in gold, I tell ya!

I've been immersed in reading (like, actually reading the entire thing) Deborah Madison's cooking bible Vegetarian Cooking For Everyone. I've been checking out cookbooks from the library constantly, but want to buy the ones that I feel I'll use all the time. This is one of those. It's chock full of billions of recipes and technique tips, and is broken down by ingredient--which E-Dawg pointed out is perfect for figuring out what to make with your CSA stuff. A few people have mentioned not liking her tone/style, but I don't mind it one bit. I kinda like a bossy lady.

Speaking of CSAs, our box last week contained these delights:
-free range eggs
-an italian herb mix
-green beans
-carrots
-black raspberries
-zucchini
-green bibb lettuce
-beets with greens
-cilantro
-new potatoes
-cucumbers
-Hungarian hot wax peppers

And, tomorrow we're getting:
-green beans
-basil
-blueberries
-Methley plums
-salad mix
-onions
-cucumbers
-cilantro
-zucchini
-sweet corn

I cannot wait!!!

I also cannot wait because my friend Alex is visiting tomorrow from Poland. It's been a while since I've seen her, and I can't wait to catch up, hear about her globe-trotting adventures and introduce her to Barbara and our new house (which is looking totally adorable, by the way!).

I also feel fine because I was asked to contribute my photo and a quote from and link to my blog from this outfit called We Feel Fine for their upcoming book. They're a site that "harvests human feelings" from weblogs. Every few minutes they search on "i feel" and "i am feeling" to see what the people out on the interwebs are emoting about. It's pretty interesting, and I feel excited (I'm in the "Excited" section) that they decided to include me. Also, I feel special. It's nice to feel special.

And, just for kicks, and for your viewing pleasure, here's a pic of our Libing Room (half library/half living room). It's that green fantastic?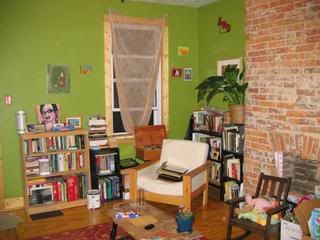 And, here's a picture of me with the gal that makes it feel like home: