For the last few days I've had a virus that I was convinced for a few days that was some mutant strain of malaria or something. It's passing around our office, and everyone who gets it gets their own little twist on it. Luckily I did not get the version that included "a million tiny mouth sores" (ouch). But, even so, I've felt pretty cruddy since Friday evening.

However, I did do a little cooking in the times when my fever broke. I had a bunch of beautiful blueberries that I scored from the farmers' market, and I had big plans to make this pie, but I just wasn't quite up for all the rolling and such. Instead I made some blueberry muffins out of the cook book Screen Doors and Sweet Tea: Recipes and Tales from a Southern Cook by Martha Hall Foose. I'd come across this cook book because Heidi featured the recipe for the Blackberry Limeade on her blog, and so I borrowed it from the library. It's really a lovely book, and lots of scrumptious-sounding recipes. Lots of them feature some form of pork, but still. I'd like to try a few more of her recipes before it's due back.

I only had my camera phone on me at the time, but you can kinda see them.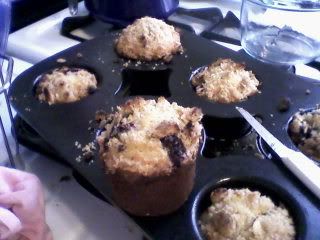 Blueberry Muffins
makes 18
2 cups unbleached all-purpose flour
2 large eggs
2/3 cup packed light brown sugar
1 cup buttermilk
1 tablespoon baking powder
1/2 cup butter (1 stick, melted)
1/2 teaspoon baking soda
1 teaspoon grated lemon [ek note: 1 used more like 1 1/2 T.]
1/2 teaspoon salt
1/4 teaspoon almond extract
Grating of nutmeg [ek note: i was out of nutmeg, so used a little cinnamon instead]
1/2 teaspoon vanilla extract
1 1/2 cups fresh or frozen blueberries (do not thaw)

Preheat the oven to 475 F [ek note: most of my muffins got burned on the outside at this temperature. i'm not sure if it's the oven that i'm just not used to yet, or just that that temp is way too high. i'd probably go for 375-400 degrees F next time]. Grease or line 18 muffin cups with paper baking cups.
In a large bowl with a whisk, combine flour, brown sugar, baking powder, baking soda, salt and nutmeg. Toss the blueberries to coat with the flour and evenly distribute. Ina separate bowl, whisk together the eggs, buttermilk, butter, zest, and almond and vanilla extracts.
Using a rubber spatula, combine the wet ingredients into the dry ingredients. Stir just until everything is moistened. Divide the batter among the muffin cups, filling each two-thirds full.

Bake for 15 minutes [ek note: if you lower the cooking temp, these will take longer], or until the tops spring back lightly when touched. Allow to cool for a few minutes and then turn out of the pan onto a rack to cool. Don't let them cool completely in the pan, or the bottoms will get soggy.

[And, I also opted for the optional streusel topping, but changed it a tad. I used 2/3 c. granulated sugar, 1/3 light brown sugar, 2/3 c. flour, 1/2 t. cinnamon, a good bit of slivered almonds--maybe 1/2 c.?, and 4 T. melted butter. Just mush it all together, and sprinkle on the unbaked muffins].

I made some tasty burritos on Sunday night, too, but now I'm all worned out from typing about the muffins, and need to go rest. Carry me!