While I'm not really one for summer weather (I'm a sweater. Not a cardigan-style or pullover style. I'm a Sweat-Er), I do so love the bounty of produce! And, I love that it's so delicious that it doesn't even take much fiddling to be ready for the plate. I've made some lovely dinners lately, if I do say so myself, that didn't require much more than a trip to my counter/fridge for my CSA goodies or the farmers' market. I'm in love with corn and tomatoes and cucumbers, and can pretty much have them for every meal, along with anything else that happens to come in my CSA box or show up at the market.

One meal was simply slices of tomato (salt and pepper) with ears of corn (butter, salt and pepper) and a couple Veggie Masala "burgers" from Trader Joe's (they're these curried potato-veggie patties that I adore):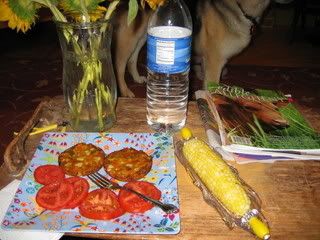 Another meal was in honor of my friend Alex's visit from Poland. I made my ol' stand by, Heidi Swanson's Sprouted Garbanzo Burgers (but I used canned chickpeas instead of sprouted) with some smoked cheddar, lettuce, spicy sprouts, avocado and tomato. Served with some cucumber "salad" (just tossed with a glug of olive oil, salt and pepper), and some corn prepared Mexican street vendor style with crema, powdered chipotle pepper, cojita cheese and wedges of lime. And, vanilla frozen yogurt--fresh outta the maker!--with black raspberries and blueberries for dessert. (I forgot to photo that one, but I wish I'd taken a picture of the corn. It's SO good this way!).

On Saturday I was picked up bright-n-early for the farmers market in the Strip by Liz and Emily, and we met the E-dawg down there. I even got to ring the bell (that opens the market) this week! I picked up some Poona Kheera cucumbers--the first time I'd ever seen them. They're an heirloom variety that was originally from India. They're really lovely--bright yellow (thin) skin, crisp, a bit sweet with a very pale green firm flesh. I've been on the look-out for lemon cukes, too, after having some in a dish that pal Kara made last summer. If yinz see any, lemme know! Other delectable farmers market items are:
-eggs
-big bunches of basil
-radish microgreens
-chives
-dill seeds (and an actual dill plant from Liz and Emily's garden)
-lime basil
-red tomatoes (not sure of the variety)
-a pint of mixed little tomatoes--cherries, sungolds, jelly beans, and some others I don't know
-candy onions
-morels !!! I thought it was too late for these babies, but there they were! and the Mushrooms for Life guy (Jonathan Cingota) also had made this incredible spread that he shared with us that I have to make this week. I'll report back on that.
-Emily and Liz also gave me a pepper from a plant I remarked on in their garden. It's a Black Czech pepper, and they compared the heat level to a jalapeno, and said that the flesh is white. I can't wait to try it. I think I'll use it in a quick salsa this week, and the little flecks of black-and-white pepper will hopefully stand out and be lovely.

Then E-dawg and I hit the PASA Farm Tour (PASA stands for Pennsylvania Association for Sustainable Agriculture). We went to a couple farms during the tour last year, and decided to just go to one this year--Morris Farm near Irwin, PA. They're an organic farm that does pick-your-own. E-dawg selected this one because they mill their own flour. We got to watch them milling the wheat, which was fun, and much simpler (as a technological process, I mean) than I'd have guessed. While it was being milled, the farmer (Farmer Morris) put some fresh flour into our hands, and the warm, silky, aromatic stuff was practically enough to send us into fits with visions of freshly-baked bread and doughy possibility. We each bought a good-sized bag, and I can't wait to use it. E-dawg was contemplating using that evening for pizza crust, but I haven't heard if she did or how it turned out yet. Kara pointed out that it's a great find for the locavores in the area. (You can buy wheatberries there, too, which I almost did until I remembered my full-to-bursting pantry). It was interesting (and really cool) to hear this guy who seemed like a very old-school farmer talk about organic solutions to pests and using sea minerals in his soil. We didn't pick any veggies there since we'd gone so crazy at the market that morning, but you can see below the 1920s-era potato digger, and our excitement at viewing the delicious tubers (Farmer Morris said his potatoes had one 2nd place that same week at a fair).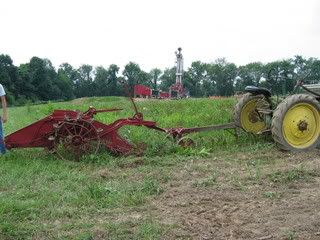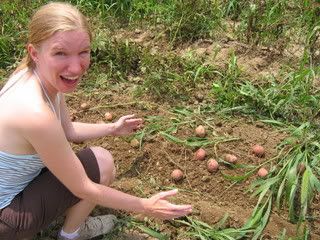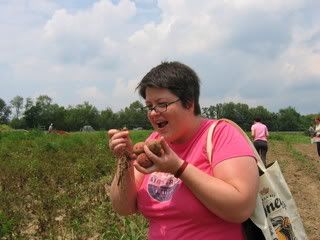 After that adventure, we hit the pool to cool off (I discovered I'd gotten quite a passenger-side burn on my right arm from hanging it out the window of E-dawg's car). Then went home to have one of my favorite seasonal snacks (also had this for breakfast this morning, and many, many other times over the past couple weeks)--tomato slices on buttered toast. And, some ice cream (vanilla ice cream with Rita's root beer ice).

That evening I made a dinner to highlight all the freshness I'd gotten that day. We had a tomato salad (the little tomatoes tossed with a vinaigrette of lemon juice, olive oil, onion, salt, pepper, lime basil and a splash of vanilla extract--E-dawg heard of using vanilla with tomatoes last year on The Splendid Table), some lightly sauteed morels with shallots in a little butter, some gorgeous beans tossed with some fresh dill and salt (I used both green beans and royal burgundy beans--which actually turn green when you cook them--see the before and afters below), some of those gorgeous Poona Kheera cukes, and some roasted new potatoes with some garlic-herb mayonnaise (used garlic, chives, dill, marjoram and thyme).

Beans, before: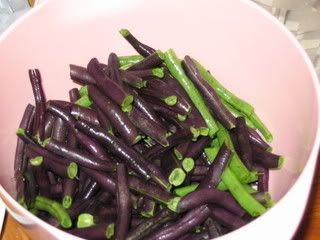 Tomato salad:


the full-meal deal: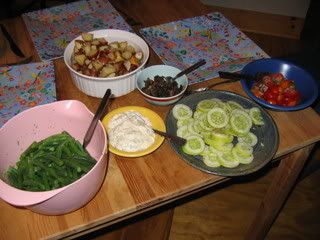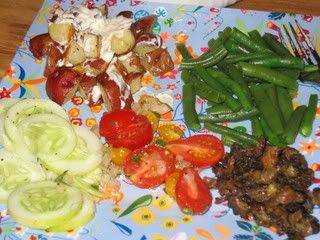 Summer, I heart you.

p.s. Hey--I have an unrelated question for you, dear readers. When you read a recipe that calls for mint, do you typically assume that means peppermint or spearmint? I've gotten mixed results in asking this question of a lot of people over the past couple of days, but today I asked a couple chefs here at the ol' big Burrito, and they said it'd be peppermint unless otherwise specified. What do you think?