I love risotto. And, I fear risotto. I've heard for years how easy it is to mess up, how labor-intensive it is, how often after stirring for a half hour you're likely to end up with a soupy/sticky/undercooked/overcooked mess. So, it's usually something that I order when out, and only fantasize about making at home.

But, this past weekend I got up the gumption to try it, loosely basing it--naturally--on a Heidi Swanson recipe. In her book, Cook 1.0: A Fresh Approach to the Vegetarian Kitchen, she lists several varieties for risotto. She uses wine and water as her cooking liquid, but I stuck with vegetable broth and a little water. I didn't have any white wine on hand, and knew that broth was the traditional choice. But, I did take her process suggestions, getting all my ingredients ready beforehand, because once you start, there's no stopping to the stirring. I did use Barbara as a pinch hitter a few times so I could powder my nose, and take some other stuff out of the oven. And, you know what? It turned out great! Creamy and comforty with a nice al dente bite. I threw in some grated parmesan (and topped it with a little more shaved parm), a handful of fresh herbs (I think I used basil, oregano, parsley and lemon thyme), salt and pepper and lemon zest right at the end, and it was rich and fresh-tasting. It made a big pot, so I'm using the leftovers for risotto cakes this evening for dinner, and I think I'll throw in some fresh peas and onions and whatever other veg I have hanging out in the fridge.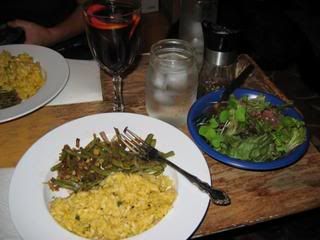 I served the risotto with some roasted green beans (a Mollie Katzen recipe; I just subbed toasted walnuts for the pinenuts. I can't remember if it's in the original Moosewood cookbook or The Enchanted Broccoli Forest), a green salad (with tender yummy radish microgreens) and a pitcher of sangria I made earlier in the day, then chilled in the refrigerator for several hours (it was even better the next day!). Yum.

Oh! And, lemon pound cake for dessert! I used a recipe that a former co-worker of mine used. I hadn't made it myself, but remember loving it, and then after having some lemon birthday cake a couple weeks ago, I couldn't stop thinking about it. It's a Barefoot Contessa (Ina Garten) recipe, and you can find it here. It seems that Oprah and I like the same things.



On a related note, one of the best Halloween costumes I saw last year was a guy dressed as the Barefoot Contessa at the Spell party. It was Spot On.

Sunday morning Barbara and the E-Dawg were taking a big bike ride, so before they left, I whipped up some buttermilk pancakes (I had leftover buttermilk from the lemon cake, so I hadta!) and Gimme Lean "sausage" patties. For the pancake recipe, I again consulted Heidi's Cook 1.0. They came out fluffy and delicious. Yummers.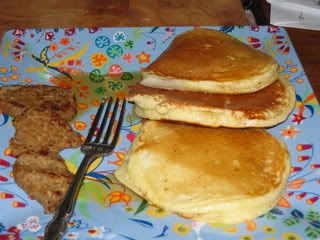 Now, I'm hungry.