I wanted to follow through on my promise of sharing my favorite brownie recipe that was given to me by my good pal Susie. She's a great baker, and since she moved to California last year, I've missed her treats. Luckily I got this recipe out of her (and her recipe for banana bread) before she split town. I love this recipe for the intense chocolatiness and the ease of preparation. I'm not sure if she made this recipe, or if she just knew a good thing when she saw it, but it's definitely a good thing. Without further ado...

Easy Cocoa Brownies (a la Susie)

Preheat your oven to 350 (F).

1/2 c. melted butter
1 t. vanilla
1 c. sugar
2 eggs, beaten

Mix butter and sugar thoroughly. Stir in vanilla and beaten egg mixture.

1/2 c. all-purpose flour (EK note: I made these once with WW flour, and didn't like the texture as much. Now I usually use King Arthur)
1/4 t. aluminum-free baking powder
1/3 c. unsweetened cocoa
1/4 t. salt

Sift together, and mix with the wet ingredients.

Spread in a greased 9" square pan. Bake for 25-30 minutes or until brownies start to pull away from the edges of the pan or when a toothpick inserted in the middle comes out clean.

Voila!

For the version I made for Saturday's rampin' road trip, I used just slightly less sugar (maybe reduced by 2 T.), and added a vanilla buttercream frosting with a few drops of red food coloring to make it a soft pink fluff color.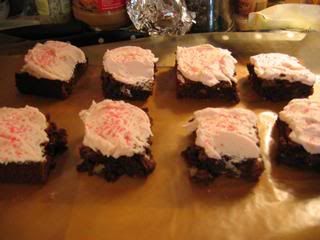 I used:
3 c. powdered/confectioners sugar
1 c. softened butter
1 t. vanilla
2-3 T. half and half (you could use milk, that's just what I had on hand)
3-ish drops of red food coloring
some colored sugar sprinkles, if you wanna

It makes a lot. Use the leftovers to make your girlfriend "icing balls" (don't ask), or refrigerate for about a week or so.

Stay tuned next week for tales of my fantastic dinner last night with Barbara at Eleven. Wowza. Up there with one of my all-time favorite meals. Fresh, seasonal, interesting, delicious. That is what I'm talkin' about.