First of all, if you are down a little windy West Virginia road, and you stop to ask a backwoodsy type of fella for directions, and he looks surprised, and cautions you to take another route, you might wanna listen. Just sayin'. Unless of course, you feel like taking your friends and your friend's brand new car on a True West Virginia Adventure (tm), being over two hours late to meet your parents, and missing out on a significant portion of the Ramp Day festivities. I mean, if that's how you roll, go for it.

That is how we rolled. Not really on purpose, though. We had some Google directions that instructed us on the shortest (by distance) route (which would be fine as the crow flies, but we were not crows and not flyin'), which were made tougher to follow since most of the roads are not marked in that part of the world. These are roads that you only know the name of because you grew up there, as your mothers and their mothers before them. You just know where to go because you've been going that way (on a four-wheeler, mostly) since before you can remember.

But, luckily we had some road snacks to sustain us and good times to keep us going. And, we made it eventually. But, let's start with the road snacks.

I made, as is tradition, curried pea and potato pocket tarts with a shredded mango dipping sauce (I didn't actually make the sauce. I think I got it at Kohli's Imports a while back. Or maybe Trader Joe's. I don't remember). Anyhow, these are based on a recipe from Heidi Swanson's Cook 1.0: A Fresh Approach to the Vegetarian Kitchen (aka my guru). They are delicious and they are cute. It doesn't get much better than that.



I also made some brownies. I pretty much always use this fantastic recipe I scored from my friend Susie a couple years ago, and then just do variations on the theme. This time I reduced the sugar a little bit, added some chopped walnuts and semi-sweet chocolate chips, and then frosted them with a vanilla buttercream that I dyed pink, 'cause, again, cuteness. Plus, some little hot pink sugar sprinkes. They were yum. I'll try to remember to post the recipe because it really is the best brownie recipe ever. And, it's really easy.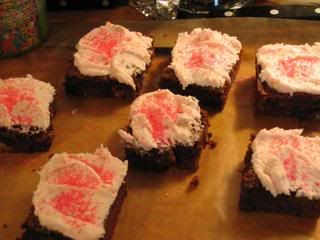 So, anyhow, yes, we finally arrived, and met up with Ma & Pa, and got in a (very long, very windy) line. The logistics for this dinner were a little wack. Helvetia was originally a Swiss craftsman community, and they do stay true to that ideal in large part, but whatever Swiss efficiency they had seems to have been bred out once they started mixing it up with the West Virginians. 'Cause West Virginians, as a general rule, are not in a hurry. But, we did eventually eat. Unfortunately pretty much everything had some type of pork (ham or bacon) in it, except the applesauce and the coffee (and I'm not so sure about the coffee). I did a little suspension of disbelief and ate a few things that were surely bacony, but not as overtly so. Unfortunately, we'd arrived late so we missed out on hitting up the Cheese Haus (with goat cheeses made by a trio of Helvetian sisters) and the arts and crafts. But, I did get a couple bunches of ramps to take home.

Reacting to the stinky outhouse (strangely, E-dawg looks pleased!)



Look how beautiful it is behind us! (not the Joe DeLong supporter, the mountains...)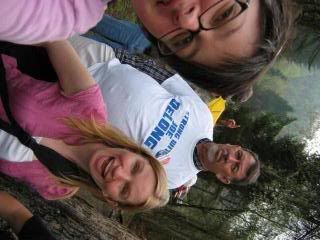 The line to ramp it up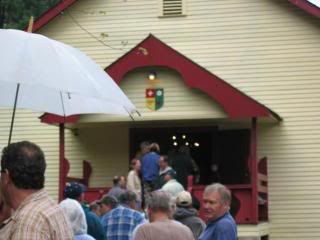 The fam



Since Barbara and I were feeling a little left out of the true feastiness of the ramps, I made us a vegetarian ramp feast on Sunday evening: ramp-cheddar cornbread, ramp roasted potatoes, rampy pinto beans and deviled eggs. It was full of yumminess. That's my kind of eatin'.

the majestic ramp



ramp-cheddar cornbread



deviled eggs (before they got squished in the car)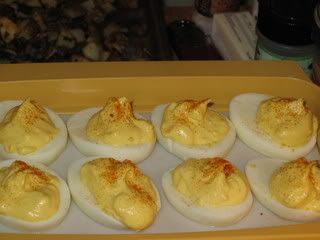 the pinto thingy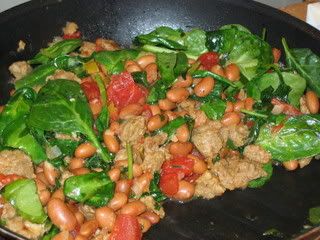 I have to say, that the inspiration for the pinto thingy was just trying to figure out some kind of protein, and just throwing some stuff from my pantry together, but it was really fantastic! Super simple, it probably took under ten minutes, but was so delicious. It's just:
-1 15 oz can of pintos, drained and rinsed
-about a 1/2 c. of canned diced tomatoes
-some Gimme Lean sausage-style. I probably used the same amount as I'd generally use for about 5-6 patties, so like, 1/4 of a tube
-3 big handfuls of fresh spinach
-3 cloves of garlic
-1/2 c. onion, small dice
-a little olive oil
-a mess of ramps (I probably used the bulbs and leaves of about 4-5 ramps)--minced the bulbs, and chopped the leaves
-a small handful of jarred banana peppers, small dice
-a little shaved parmesan for serving

I just sweated the garlic, onions and ramp bulb for a few minutes with the olive oil, then added the Gimme Lean and sauteed for a couple minutes, then threw in the tomatoes, banana peppers, spinach and ramp leaves, and let the leaves wilt for a couple minutes. Then shaved some parm on top. Easy, peasy. So fantastic. You could easily leave out the ramps, and it'd still be super.