You wouldn't know it by how often I've been blogging, but I really do have spring (food) fever. There's nothing like the bursting forth of green after a long, grey winter. When the farmers markets and CSAs kick it into gear, when you can start getting local produce again. This is my favorite time of year.

The Firehouse Farmers Market started up again two weeks ago, and the city farmers markets are on their second week this week (they're still a little slim this time of year, but that'll change soon!). I had to switch my CSA. Unfortunately one of the owners of Mildred's Daughters had an injury recently that made their CSA program unworkable for this season, but luckily the good folks at Penn's Corner took the E-dawg and I under their wings. (Some of my work friends did the spring share, too, and it's been amazing! I can't wait for mine to start! I know they still have some openings if you haven't signed up for a CSA for this year yet). And, if you're wondering what the heck a CSA is, here's the wikipedia listing that tells you all about it. It's a fantastic idea that gets you the freshest produce available, and helps you support the local economy. You can find info for the various CSAs in the area here.

It feels good. Do it.

I love having a Saturday morning ritual centered around the Farmer's Market. How it usually goes down is that I meet up with E-dawg at some point (we carpool or ride bikes, or she rides and meets me, or whatever). Lately our itin has been that we hit the farmers market first, then Cafe Richard (which recently just changed into the hands of Raymond, one of the long-time staples in the kitchen), sometimes Reyna (for the softest, most delicious tortillas ever), sometimes Mon Amiee Chocolat (especially great during cold weather because they have the best hot chocolate I've ever tasted), sometimes Penzeys or Penn Mac, or Enrico's or wherever else we need. Then roll up into 21st Street Coffee for some fantastic brew and we sit upstairs in the little loft--sometimes a friendly game of Foodie Fight (nice play, opponent), sometimes just chatting and people-watching. It's something I look forward to every week. I love having a little ritual of 100% pure fun, and I'm elated to see fresh local goodness in the market.

I love the Strip District on Saturday mornings. I love the bustle of it. I love all the different shops. I love the incredible smells. It feels like I'm in a city the way I imagined living in a city would feel when I was a kid.

Anyhow, I've made a couple dishes that I really enjoyed recently from my market bounty. One of my favorite vendors at the farmers market is Mushrooms For Life. They have a fantastic variety of cultivated and wild mushrooms. I love mushrooms. Week before last I got some shittakes and some royal trumpets, and used them in a dish I took to a friend's birthday potluck. I based this dish on Heidi's Spring Butterfiles with Lemon Cream from Cook 1.0. While the pappardelle pasta had a great flavor and texture, I think it'd be better with a lighter pasta, like the butterflies Heidi suggests or orecchiette or something like that. Here's what I did:

Spring Pasta
(makes enough to take to a potluck)

Boil salted water, then throw in your pasta and cook until pasta is al dente. When you have about one minute to go, through in some asparagus (a small bunch, cut into 1" pieces) and some peas (I used frozen petit green peas, about 2 c.). Drain and set aside.

In the meantime, chop up a mix of mushrooms (I used shittake and royal trumpets, about 1/3 lb. each), and saute in some butter (about 3 T.) with some diced onion (1/2 onion) and minced garlic (about 3 cloves). Add in a few shakes of crushed red pepper, salt (helps the shrooms to give up their moisture) and pepper. Cook long enough that the mushrooms gave up their juice and are golden brown. When they're ready, add 2 c. heavy cream and 1 c. milk and cook over low heat until it thickens into a cream sauce.

Pour the cream sauce over the pasta/asparagus/peas and stir gently.

Now zest three lemons, chop up a handful of basil, and grate about 1 cup of cheese (I used about 1 c. of parmesan and about 1/2 c. of this wonderful raw goat cheddar I got at the market from the East End Food Coop's booth; I forget who the maker is). Chop up about 1/2 - 3/4 c. of pine nuts. Reserve about 1 T. each of the zest, pinenuts, basil and cheese, and mix the rest in. Sprinkle the reserved items over the top for good looks. Salt and pepper to taste.

This flavor is all about spring.



[I want to mention as an aside that while I don't often stress this, I do use all "organic" ingredients when I cook. Not necessarily all certified organic (you can read about that distinction in the brilliant book The Omnivore's Dilemma by Michael Pollan), but grown without chemicals. I try to buy as much local stuff as I can, and to eat as seasonally as I can. It's better for you because the food is fresher, it's better for your local economy because you're supporting local farmers and growers, and it's better for the environment because you're not contributing to adding additional chemicals to the soil (and the subsequent run-off), you're not using fossil fuels to bring your food from across the globe, etc. I'm just sayin'. I do make exceptions, but I like to keep these goals in mind when I'm choosing foods].

Okay. Back to cooking and eating.

Last week I heard tale that Mushrooms For Life were bringing some foraged morels to the market. I got there early, but there was already a line. The word spread back down the line that he'd brought about 1 pound of morels, and was divvying them up in 2 oz portions. I crossed my fingers that I'd make it to the front before they were sold out. And, I did! There was enough for me, and for the people behind me, and then everyone else had to console themselves with other beautiful mushrooms and ramps and the like.

I hadn't had a morel in a couple years. My stepdad used to forage them in a couple secret patches on their property, but a couple years ago someone found his stash, and made it there before he did. Last year Kramer and I talked about joining the Western PA Mycological Club (I think that's the name), but never got around to making it to a meeting or foraging with the group. Anyhow, morels are wonderful mushrooms. They're kind of lovely and creepy looking at the same time. And, they have this really amazing flavor. It's really kind of meaty. Like, steak-esque, but gamier and earthier. They live up to the hype.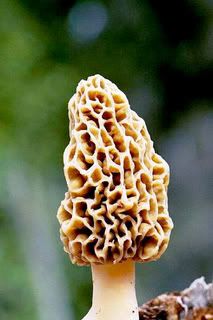 I made a dish with the morels, and my leftover shittakes and royal trumpets. I didn't really have much of a vision to start with, but I just made it up as I went along (often my cooking method) it turned out fantastically well. The texture was almost risotto-ish and the taste was reminiscent of stroganoff. In other words, yummalicious.

My method was to cook some brown rice.

Then to saute the mushrooms in some butter with onions and garlic. Keep the heat kinda low so you can cook them for a while. I wanted the onions to be soft and sweet, but not browned. I through in some minced rosemary, salt and pepper and crushed red pepper. After about 15 minutes or so, I deglazed the pan with a little sherry, and when that moisture was gone, I added a couple glugs of heavy cream. Let it bubble for a minute and thicken.

Then I made a big dip in a bowl of rice and scooped in some of the mushroom mixture, and crumbled some (okay, lots) of goat cheese. I photographed it at this point, but it really was kicked up a notch when I stirred it all together. The goat cheese lent it a fantastic creaminess and tanginess, and the morels made it so meaty that if I hadn't made it myself I'd have sworn that there was some kind of beef or something up in there. I made enough for two servings, and accidentally ate them both for dinner. So simple, so incredibly delicious.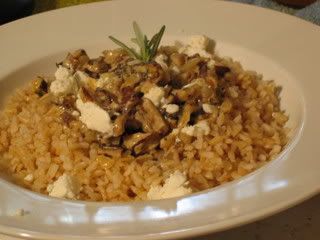 Want to get your local and sustainable grub on this weekend? Check out the Sustainable Feast at the Rachel Carson Homestead on Sunday noon - 5pm. E-dawg, Kara and I went last year, and it was really super. $5 gets you in, and tastes of all the lovely food. Some big Burrito peeps will be cooking up some goodness (Corporate Chef, Bill Fuller and Casbah's Executive Chef, Alan Peet), too. It should be a Real Good Time. And if there's one thing I like, it's a good time.