Sorry about my lame post yesterday. I started it, then got busy, then was having connection problems, so I just gave up. Eh.

Things have been busy lately (when are they not?)--new job, pet-sitting, cleaning up my act at home (my apartment--now looking great!), out-of-town friends visiting, upcoming mini-break to NYC, etc, etc, etc. All good stuff, but I still have been feeling a little overwhelmed with everything. However, getting my apartment in shape is definitely helping with the mental clarity. And, I feel more like cooking when I have a clean place, for sure!

I've been really into sandwiches lately. For a long time I was sort of anti-sandwich. For no particular reason I can think of, but they never sounded good to me. But now, it's all sandwiches, all the time.

On Monday evening I used my brandy-new employee discount at Kaya to have dinner with my old pal Jen and her husband, Errol--here in town for a clay convention. Even before I mentioned that I was now part of the bB family, we were already getting amazingly friendly and fast service from our server, Chaz (who, incidentally, the next day had a new baby with his gf - welcome to the world, little Violet!). After I did mention that I was part of bB, the manager, the chef, and the chef from Soba all came over and introduced themselves to me. It was so nice! They made me look like rock star in front of my friends. And, the food was amazing. We started out with some Mango Mai Tais and tofu cracklins. I don't know what they do to the tofu cracklins, but they're the most amazingly fragrantly delicious little nibblets. Some kind of barbeque-peanut lightly sauced on perfectly pert and just a tiny bit crispy tofu cubes. They are awesome. And, then I had an avocado-egg sandwich, which was also fantastic. And, the chocolate-banana bread pudding is off the hook! I got home afterwards, sat on the couch, and was immediately asleep. Visions of delicious Carribean-inspired dishes dancing in my head. Yum.




I made a sandwich for dinner last night, too. I had some lovely fresh shittakes, so I sliced them thinly, and sauteed them with some onions in a little olive oil and salt for about...maybe 12-ish minutes? Until the onions were soft, translucent, and just starting to brown, and the mushrooms were golden. Then I set them to the side, and grilled some wheat bread with some smoked cheddar. Spread that with some roasted red pepper-eggplant tapenade-ish stuff. Had that with some Russian Banana fingerling potatoes that I roasted with a little olive oil, pepper, and a salt-spice blend I made with some herbs de Provence, tarragon and grey sea salt, served with a dollop of aioli. Washed down with a cold glass of cinnamon sweet tea. Yum.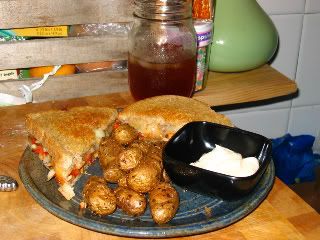 Okay, now go home and make yourself a sandwich.