Wowza. I didn't realize how long it had been since I'd blogged. I've thought of it often, and have wanted to, but life kept getting in the way.

Work, as always, has been kind of insanely busy. And, non-work, too. Barbara, my number one lady, was hit by a car while biking to work at the end of August. She's okay, but had some broken bones, some sprains, and lots of bruises and scrapes. It was so scary. If you're a biker, please always wear your helmet. If you're a driver, be cognizant of bikers on the road. The week before Barbara was hit, the E-dawg was, too. Just three blocks up. In the bike lane. By an uninsured driver. Effed up. She's okay now, too, and back to running races.

Also, in the meantime Hurd celebrated her big 3-0, and Mags celebrated her 30-something. A big wish for a lovely year for both these fine ladies. They've enriched and enhanced my life in countless ways, and I'm forever indebted to their mothers for birthing them, and raising them up right.

In other friend news, Nowlzie is going to be doing some birthing herself soon! I cannot wait to meet this little guy. He's going to have the best parents in all the land, and undoubtedly going to be quite the handsome fella.

And, for food, I've been doing some fabulous eating over the past few months. I've been hitting the Kaya Veggie Dinner monthly. I've known about this for a couple years, but had never made it. Now I'm completely hooked. August's dinner was seriously yumazing. September's dinner was not quite as good as August's stellar offering, but it was also really great. And, it's just always a fun night with friends over a leisurely dinner. And, it's always extra fun that the chef, Danielle Cain, stops by to say hello. She's super sweet, as well as a really gifted chef. Her two sous chefs are also really fantastic, Dave and Jason always put out some great dishes also. in fact, we're still all talking about Jason's dessert from August--grilled local peaches with a Point Reyes blue cheese ice cream, candied pecans, and blackberry coulis. Really, really great. The next dinner is next Wednesday, October 15th. I think (hope!) they're going to publish the menu today or tomorrow. I can't wait to see what they have planned. It's always fresh, largely local ingredients prepared in really interesting and beautiful ways. Yum.

And, one more big Burrito-related item, and I'll be done plugging. big Burrito is hosting an event, big Benefit, supporting the Greater Pittsburgh Community Food Bank this Sunday, October 12th. 100% of the food revenue for that night's dinner will be donated for this third annual event. It's a great way to have a lovely evening with fantastic food, and also support a super local organization.

Okay. Enough big talk.

I'm excited about the season change. I love--LOVE--summer produce and the bounty, but I'm thrilled that the weather is changing (although not the early darkness; that's a bummer), and I love the new seasonal additions to my CSA and the farmers market. Winter squash, apples, pears, the last of the foraged mushrooms, and the cutest vegetable of all--the brussels sprout. I haven't seen any sprouts yet at the market, but I'm hoping they'll be here soon. They're best picked after the first frost. I can't wait.

In the meantime, I've renewed my love affair with the butternut squash. Last night I prepared a big one, by slicing it in half, seeding it, and cutting out a big hollow in the stem part (the most difficult and time-consuming part of this dish. everything else is easy-peasy). I did a small dice of the squash flesh I'd removed, tossed them with a little splash of olive oil and a little splash of balsamic vinegar, and some sea salt and freshly ground pepper, and covered them with foil, and baked at 350 for about 20-25 minutes--until it was tender, but not falling apart. And, with the two whole halves of squash, I put a little honey and cayenne into a baking dish, and put them cut side down, and put about 2T of water in, covered them with foil, and cooked them for about 40 minutes, until very tender (the time depends on the size of your squash).

In the meantime, I cooked some red quinoa (you don't have to use red, it just looks really pretty with the other ingredients). Then I tossed about 3 c. of the quinoa with the cooked, diced squash, about 1/4 c. of freshly grated parmesan. While the quinoa was cooking, I lightly sauteed about 1/3 c. of chopped onion, about 1/4 c. of this gorgeous fragrant celery (with the leaves) that I got at the market, a clove of garlic, a splash of olive oil, some chopped fresh sage (about 2T), and some chopped fresh parsley (also about 2T). I folded that into the squash-quinoa mixture.

I melted some butter in a pan, and browned some whole wheat panko bread crumbs, and put that on top, and popped the whole thing back into the oven for about 15 minutes. When that was done, I scooped it into the halves, and served it with some chopped fresh chives on top. It was beautiful, seasonal, and absolutely delicious. I wish I was a better photographer.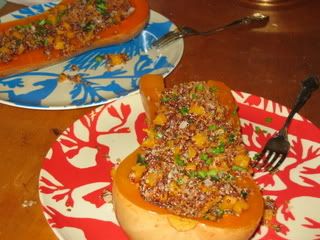 Welcome, Autumn. I salute you.