Last week a co-worker got to talk to Lynne Rosetto Caspar! He'd called in with a question, left a message, and then got a call back with a time to call in and speak to Lynne herself, to possibly be aired on The Splendid Table. So cool! He suggested I call in about my mint conundrum/fascination. Speaking of, I asked a farmer from Goose Creek Gardens (a local herb farm) at the Firehouse Farmers Market (where he was selling spearmint, peppermint and chocolate mint--and who'd supplied the spearmint in my CSA last week). He said that spearmint was his default, and he felt like it just went better with most things. So, the debate continues...

And, speaking of the Firehouse Farmers Market, I got some delicious stuff this week in the Strip:
-Next Life Farms: poona kheera cucumbers, a mix of baby tomatoes, a bunch of red and purple (I think Cherokee Purples?) tomatoes
-Blackberry Meadows: a big basket of white (?) potatoes with this odd peel-y skin (pretty starchy and really tasty, yellow-y flesh), a bunch of parsley, a bunch of Thai basil
-Goose Creek Gardens: some little greens that I was really excited about, and now can't remember what they are for the life of me
-Mushrooms For Life: chanterelles
-Najat's Cuisine: the best hummus EVER
-Puckerbrush Farms: some really fantastically sweet bread and butter corn and a small bag of fresh figs

And, not at the market, but also in the Strip:
-those unbelievable flour tortillas from Reyna
-some Cheddar-Onion bread still hot from the oven from Sunseri
-yummy coffee from 21st Street Coffee

In a word: Mmm.

So, beyond just hunks of bread, and thick slices of tomato, I did a little cooking this weekend. More from the vein of my summer cooking style--don't mess with it too much because it's hot in the kitchen and already pretty perfect the way it is.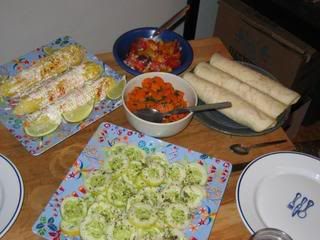 D'oh, that dinner got rabbit ears!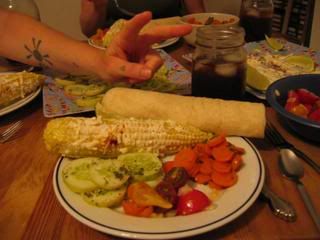 dessert:



That dinner is potato taquitos--based on the Mad Mex version that I constantly crave, tomato salad, cucumbers with dill, Mexican street corn (Ellen calls this "goopy corn"), and carrots with a honey-dijon glaze. Fresh peach frozen yogurt with blueberries for dessert. And mint iced tea (spearmint, fyi).

The peach frozen yogurt is SO easy, and it's a peach party around here right now! To make yourself some...

4-5 ripe peaches
1 32oz container of your favorite organic plain whole-milk yogurt
about 1 cup of sugar (more or less depending on the sweetness of the fruit)
1/2 t. vanilla extract
a big squeeze of fresh lemon juice

Puree in a blender or food processor most of the peaches (save a couple for the end so you'll have some chunks) with all the rest of the ingredients. When the mixture is well blended and the sugar is dissolved, add in the last 1-2 peaches and puree for just a few seconds so you have some fruit chunks. If it's already well chilled, put it right into your ice cream maker, and follow your manufacturer's directions. (mine takes about 20 minutes!). If you don't have an ice cream maker, you can follow David Lebovitz's instructions here.

Wow. I was just looking around this site, and this recipe jumped out at me. Dang. (E-dawg--this sounds like one for you, too). Barbara got me his book (along with my fantastic ice cream maker--mine actually came with two freezer canisters. so awesome) for my birthday. It's so amazing. I need to make some ice creams--I've been fixated on frozen yogurt for months, but ice cream's good, too, right? I need to make this SOON.

Oh, and the corn that I mentioned above--in the style of Mexican Street Corn? I think I've mentioned this before (recently), because I'm obsessed with making corn this way, but here's what you do:

Boil some water (I put in a bit of salt and sugar in the water; I'm not sure why), and cook the shucked corn for about 5 minutes in boiling water. Remove it, and slather on some crema (Mexican sour cream. You can find it locally at Reyna--make sure to get the sour, not the sweet, kind), crumble or grate some cojita cheese (again, you can find this at Reyna--2031 Penn Ave in the Strip; don't forget to get some of their housemade tortillas while you're there), sprinkle with some kind of chili powder or cayenne (I've been using a chipotle chili powder), and serve it with wedges of fresh lime. Give it a squirt, and eat it up until you're too full to move. Such a wonderful flavor--the sweet corn, the sour, creamy crema, the saltiness of the cheese, and the bite of the lime. Perfection.

I had some great goopy corn at Kaya last week, too. The corn was roasted, and given a generation slather of chipotle aioli, sprinkled with Idiazabal cheese and served with lime. I'm going to (finally!) check out the Vegetarian Dinner at Kaya this month on the 20th. The menu has me drooling already.